Redwood Painting Company has been involved in the application of a wide variety of protective coating systems for commercial, industrial and residential clients for more than seventy years. Established in 1947 by D. P. Del Monte, his one-man house painting business evolved into one of the largest and most experienced painting firms in the western United States. Although no longer with us, his philosophies of slow, steady growth based on sound business practices, and the ability to change, have carried on. Today we have the equipment, facilities and personnel to apply conventional and specialized coatings to the largest commercial and industrial projects.
Our waste management and containment methods meet even the most restrictive EPA and OSHA regulations. In-house quality control ensures that each job is completed to the very stringent standards of our clients.
Quality workmanship, professional service and customer satisfaction are the trademarks of Redwood Painting Company. Our continued commitment to this philosophy of doing business is what has made us successful since the days of D. P. Del Monte.
Click Logo to Read Press Release
US Builders Review recognizes companies from across the country that have committed their enterprises to success, satisfied employees, and superior products and services through its annual Best of the United States awards. Redwood Painting Co. is named one of the publication's 2016 Best of the United States companies due in large part to its industry contributions and the forward-thinking nature of the company.
Safety Awards - Click Logo to Read Press Release

Redwood Painting Co. was recognized by the City of Pittsburg as their 2010 "Business of the Year"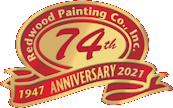 REDWOOD PAINTING CO., INC. IS CELEBRATING IT'S SEVENTY FOURTH YEAR